Awanas will not meet over the summer. They will again met in September 2016!

We pray that your child will enjoy his / her experience at Wilroy and that we may be used to help foster a personal relationship with Jesus Christ by our own example. Please take the time to download our Awana Calendar and Parents Handbook so that you may be kept abreast of upcoming events, special nights etc.
You are welcome to visit our clubs anytime. All visitors must check in at our Awana Office before visiting any club. We invite you to be informed so you may know what Awana is all about. At WBC we have Puggles, Cubbies, Sparks and T&T clubs.
For your protection all of our Awana leaders have had a background check from the Suffolk Police Dept. before they are allowed to serve with any club.
Will Bruff
Awana Commander
Thank you for allowing us to serve… Proverbs 22:6 Train up a child in the way he should go and when he is old. He will not depart from it.
The 2016 Closing Ceremony
Awana Awards 2014
[nggallery id=13]
Awana Grand Prix 2015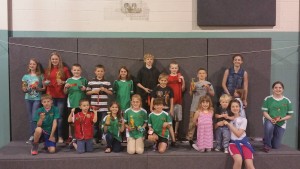 Ken Lorow – Awana Missionary – Eastern Virginia
Ken Lorow was raised in a Christian home. When he was six years his father joined the Navy. At the age of 9 while his dad was stationed in Virginia, he started to attend Awana. It was through memorizing scripture that he realized that he
needed to trust what Christ did on the cross to pay the penalty for his sin. As an Awana missionary Ken and his wife Eileen look forward to coming alongside of churches and parents to help them in seeing boys and girls come to know, love, and serve Jesus Christ. His favorite verse is II Chronicles 16:9 – "For the eyes of the Lord run to and fro throughout the whole earth, to show Himself strong on behalf of those whose heart is loyal Him." This verse is so encouraging because it reminds us that as long as we stay loyal to God, He will show Himself strong on our behalf.
The 2017 closing ceremony will be held on Sunday May 21st at 6:00 pm in the church sanctuary. Participants, please be at church by 5:30.